Whether we admit it or not, we're heavily dependent on our devices. Our iPhones and iPads serve as personal assistants that tell us everything we need to know, do our work, and help us find our way around.
We use it to communicate, take pictures and videos, find our way around, do our work faster and better, and most especially, make our lives easier.
One such feature that makes this possible is Google Lens. This tool uses AI computing capabilities to make online searching easier—regardless of what you're searching for.
This image recognition app understands the image you supply and helps you perform useful actions like discovering places and objects, exploring places and menus, and more.
Curious enough? Below, I'll show you how to use Google Lens on your iPhone or iPad.
How to use Google Lens on your iOS or iPadOS device
Before I tell you the vast features packed inside Google Lens, I should first address the question, "Where is Google Lens on my iPhone/iPad?" Unlike Android users who can enjoy Google Lens using its standalone app, iPhone and iPad users do not get this privilege.
Despite this, you can still use Google Lens by installing either the Google or Google Photos app.
Don't get fooled by the camera button that you'll see when you go to Google on your browser. It will only direct you to Apple Store, so you can download the Google app.
If you're weighing between the Google app and the Google Photos app, it's important to note that Google Photos does not allow real-time search.
How to use Google Lens in real-time on iPhone
As mentioned, Google Photos does not allow real-time search, so if you want to use the app in real-time, you need to use Google Photos instead. Unfortunately, this feature is sadly not available for iPad users. 
On the Google app, begin using Google Lens by tapping the camera icon beside the search bar. This redirects you to Google Lens. Tap Search with your camera → Enable camera. The Google app will ask for your permission to access the Camera app. Tap OK.
At the bottom of the screen, you can swipe to the left or right to change the tabs as per your need. Below are things you can do with Google Lens in real-time:
1. Translate
Just place your camera in front of the item you want to translate. It automatically detects the language and lets you translate it to another language. Tap the language on the right to open the Translate to window and select the language you want it translated to.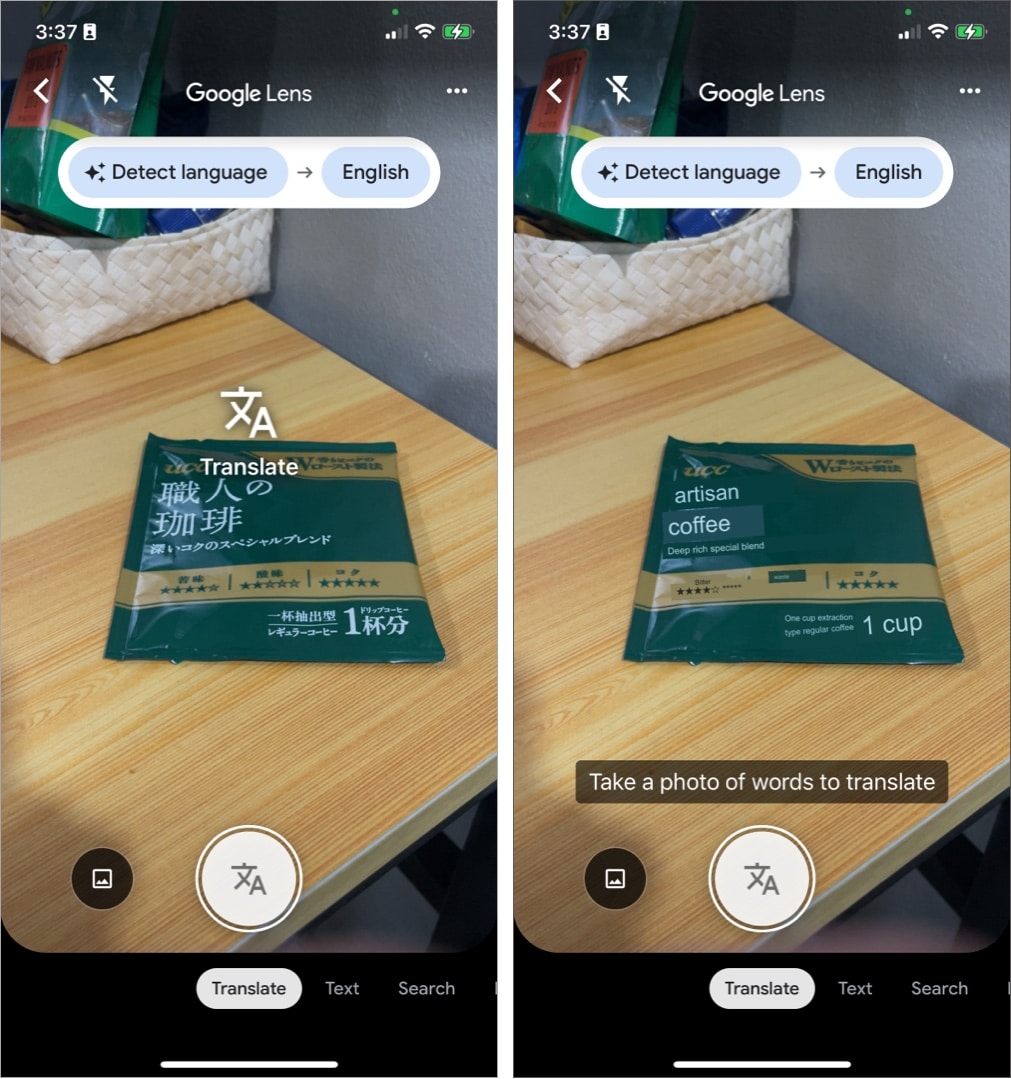 In case you are not aware, Apple has its built-in Translate app that you can use on your iPhone too!
2. Text
This option lets you take a photo of a text from the environment and use parts or all of the text in the image. Just highlight the text, and Google Lens will immediately show you search results based on the text. Drag the search results up to view it in full screen. Tap the downward arrow beside the text to head back to the camera view.
3. Search
The Search tab offers a similar function to the Text tab. It only searches for visual matches instead of the text on the image. 
4. Homework
Are you having trouble with your school homework? Google's got you. Just take a photo of it and let Google help you find a way to solve your problem.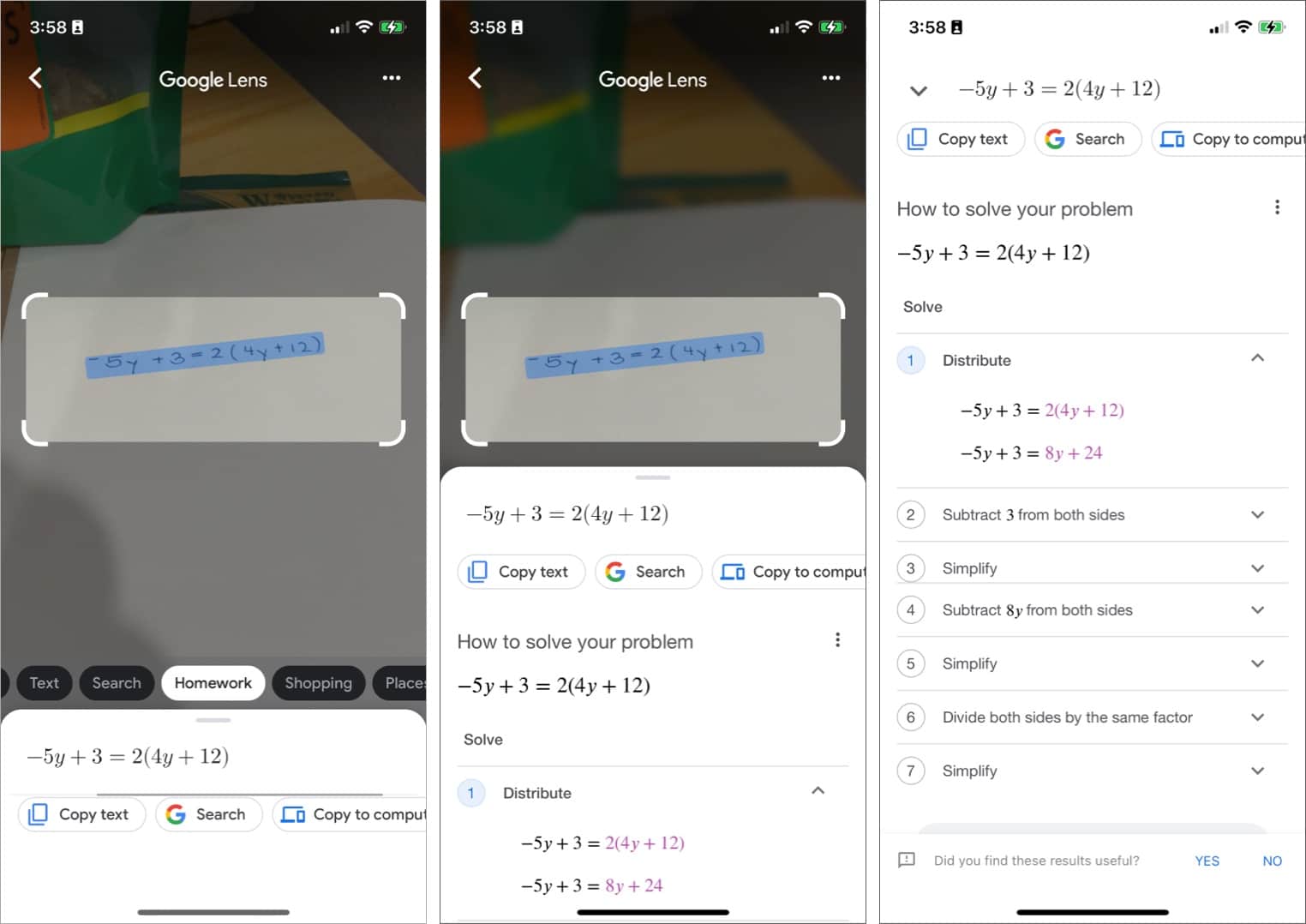 Bonus: It detects both written text and on-screen text. 
5. Shopping
The Shopping tab works like Search. However, instead of showing you all the search results, it filters them and shows only product search results. This lets you find similar products or other products that fit the keyword where the original image falls.
6. Places
Upon your first launch, the app will ask for access to your device's location to help it identify your location more accurately. Just tap Turn on location and give it access to your location once or whenever you use the app.
Take a photo of your location and wait for the app to give details about the place based on visual matches. You can also point at a landmark or a building and let the app identify where you are—a great feature when you're lost!
7. Dining
Eating out? Take a photo of the restaurant's menu to let Google Lens give you more information about the individual dishes, including the best dishes in the restaurant. You can also tap Select Restaurant to let the app search for nearby establishments in your area. It can also suggest recipes for the dishes you select.
Other cool things you can do with Google Lens
Those mentioned above are just features of Google Lens that you can use in real-time. Below are other ways you can use Google Lens on your iPhone or iPad.
Search for photos from the camera roll
Reverse image searching on an iPhone or iPad is one of the most popular features of Google Lens. This is ideal if you have an image of the item you want to search for—like an outfit someone wore or a destination your friend went to last weekend. 
To begin your search, tap Allow photo access, and choose Select Photos or Allow Access to All Photos. Then do the following:
Launch the Google app.
Select an image under Screenshots.
Once it's loaded, select the appropriate tab that best applies to your search.
Help identify plant and pet breeds
Aside from famous landmarks, buildings, and monuments, you can also identify what kind of plant was in the park the other day or what breed your friend's dog is.
Get more from text
Google Lens is powered by optical character recognition that lets it detect images, text, and more. 
Learn how to pronounce a word
Not sure how to pronounce something? You can make the app read the word to you.
Open the Google app → tap the camera icon → take a photo.
Select the Text tab and select the text you want it to read.
Tap Listen.
If you need to learn the word's meaning, tap the Search tab instead to get more information about the selected text.
Scan handwritten notes
You may also directly convert handwritten notes into digital text. Just take a photo of your handwritten note → select Text → select portions or all of the text → Copy text.
Scan business cards
Did someone hand you a business card? Instead of manually inputting their details on your phone, you can scan the card and let Google Lens detect the contact information. A prompt will appear asking you to create a contact by tapping +[name] under Related content.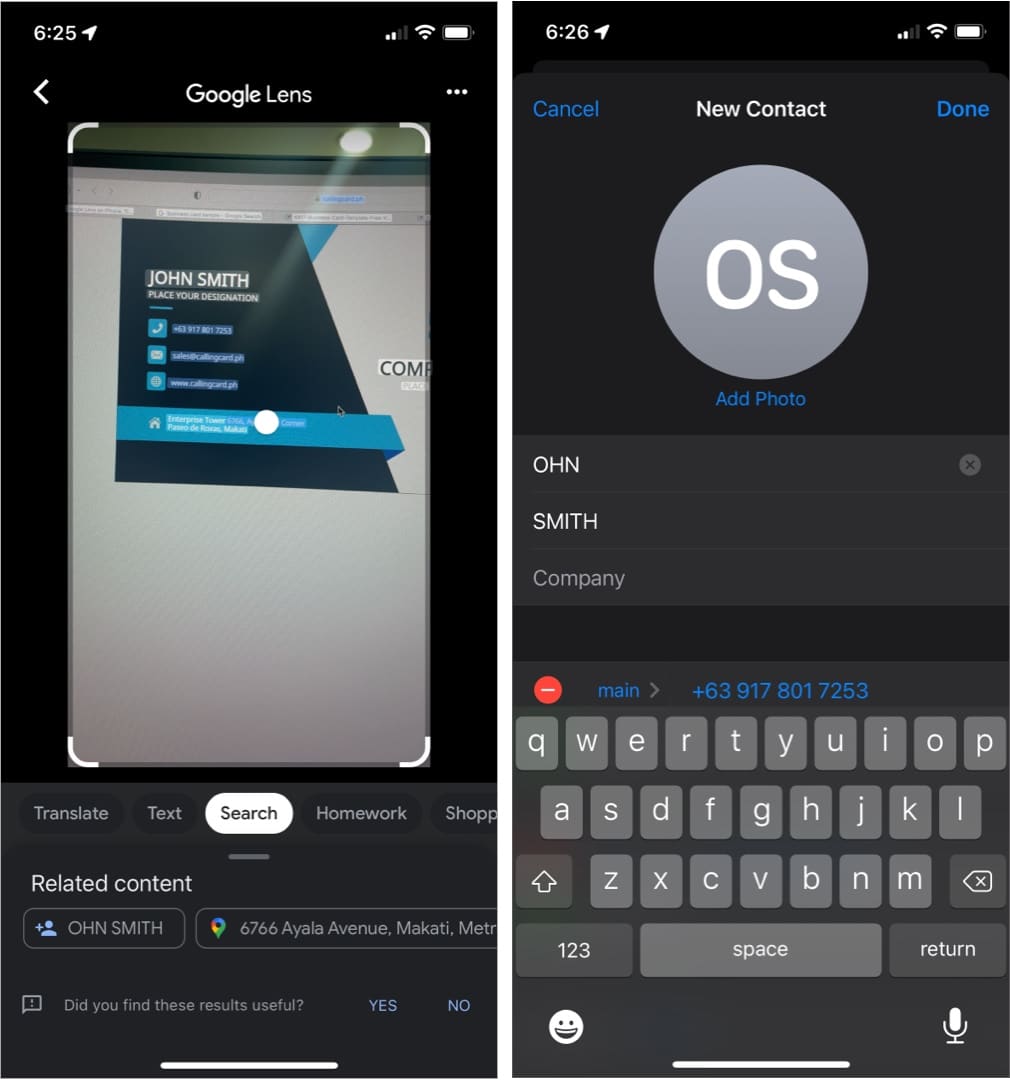 Add events to your calendar
Another helpful feature is the ability to add events to your calendar quickly. This may be from a poster of an upcoming event or an ad on social media. Just take a photo of the ad, and Google Lens detects the event details and prompts you to add it to your calendar.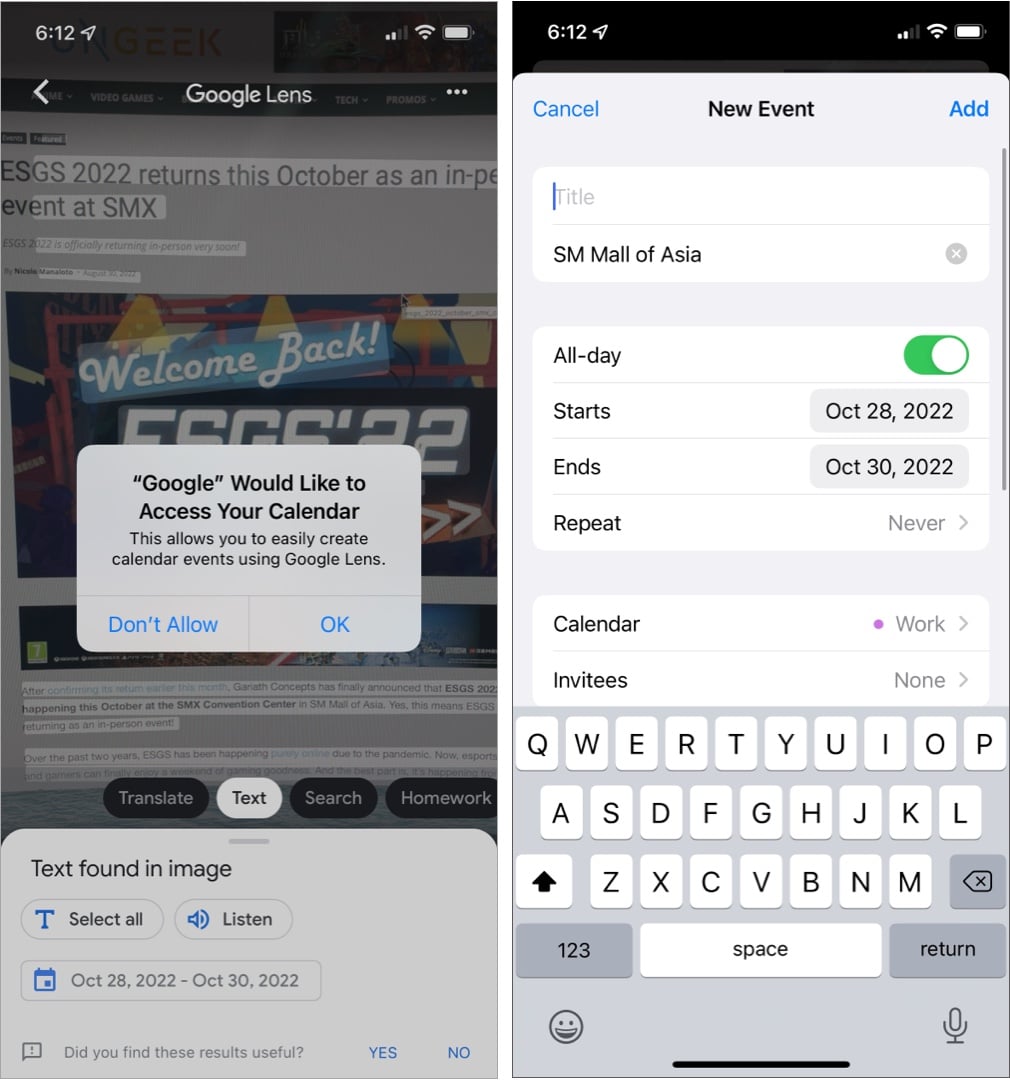 Tip calculator
Google Lens lets you calculate the tip and split the bill if you're dining out with friends. Just scan the receipt and indicate how many parts you'll split it into. 
Track your packages
Google Lens also helps you keep track of all the items you buy online. Simply point your camera to the tracking number to see your package's delivery status.
Read book summaries
One of the many things Google Lens is excellent at recognizing is books! If you're a reader, and you're still on the fence about whether to buy a book, just get your device, take a snap, and let Google Lens pull up details like reviews and summaries.
These are all awesome features. But if you're not that interested in using Google Lens, you may want to try Apple's Live Text on iPhone. If you're curious about how the two compare, we placed Live Text and Google Lens side by side on an article for a more detailed comparison.
Wrapping up…
Google Lens removes our dependence on words. Instead of trying to find the right words to express, it lets you use visual information to perform a range of functions, increasing the functionality of your device. 
Have you used Google Lens for your iPhone or iPad? Which feature do you use the most? Did you use it for another hack that I didn't list down? Please feel free to comment below!
Read more: