Every industry needs marketing. 
Marketing agencies, law firms, pharmaceutical companies, restaurant chains, nonprofits, film production companies — all organizations need to promote their services to generate business. 
That's one of the reasons the field offers a great deal of flexibility and why marketing skills are so in demand. It's also one of the reasons marketing training is a worthy investment, whether for yourself or for your team. 
This is something we've learned first-hand IMPACT, both by investing in training our own team, helping clients invest in theirs, and also offering it as a service to clients. But that doesn't make planning for it financially any easier. 
In this article, we'll walk through the cost of several different options for marketing training to help you understand which may be the best match for your needs. We'll discuss:
Why marketing training is worth the investment
College degrees
College certification programs
Online courses and certificates
Free Guide: The Ultimate Inbound Marketing Strategy Playbook 2022
Why should you invest in marketing training?
Marketing training has numerous benefits for individuals and teams. 
As an individual, it keeps you a hot commodity. 
According to Robert Half Technologies, an entry-level marketing manager with no certifications can expect to earn $67,000 per year, but add some experience, training, or certifications and that number jumps to $116,500. 
The difference is even more significant for a digital marketing specialist, who, at entry-level, makes an average of $47,750 per year, but can see nearly double that number with some training. 
Employment of marketing managers is expected to grow from 2020 to 2030, so whether you're looking to change careers or hone your skills, marketing training is well worth your time. 
Regular training is like exercise or tuning a piano — it keeps you in shape and ready to adapt to any new changes at your company or take advantage of opportunities at others. 
From a team perspective, ongoing training keeps talent sharp and apprised of the latest practices and tools. Regardless of your industry, the last thing you want to do is fall behind on what's working and what's not. 
This could mean alienating your audience and losing market share to your more relevant competitors.
Training helps make sure your team has the best knowledge and the tools needed to do the best work to achieve your goals. 
If you're at a marketing agency or consultancy, training keeps you equipped to deliver the best work and results for clients. 
No matter how you look at it, there's really little to no downside in marketing training — but like all good things in life, it comes with a cost. 
Marketing training costs (by option)
Marketing training can come in many forms and at many price points. These options also vary in terms of subject matter, depth of subject matter, time commitment, and reputation. 
With that in mind, below we dive into the cost of three of the most common forms of marketing training — college degrees, college certificate programs, and online courses — and some of the most popular and reputable providers.  
College degree
The most formal form of marketing training is the traditional college degree. I earned my bachelor's in marketing from the UConn School of Business some odd years ago. In 2020, "marketing" was the 16th most popular major in the United States. 
This option will give you valuable foundational knowledge about the field, including strategy development and consumer behavior. The cost of a degree, however, will depend on your institution. 
According to CollegeBoard, if you intend to study marketing at a four-year public college, the average cost of attendance is $10,560 per year for in-state students and $27,020 for out-of-state students. 
For four-year private colleges, the average jumps to $37,650 per year. 
A college degree is a good option for individuals with time and budget to commit and who want to fully immerse themselves in marketing. It is also a good option for individuals who want to walk away with formal credibility as an expert in the field.   
College certification programs
Though not a full degree, college certification programs can give you the same level of high-quality education and qualification without the two-to-four year time commitment.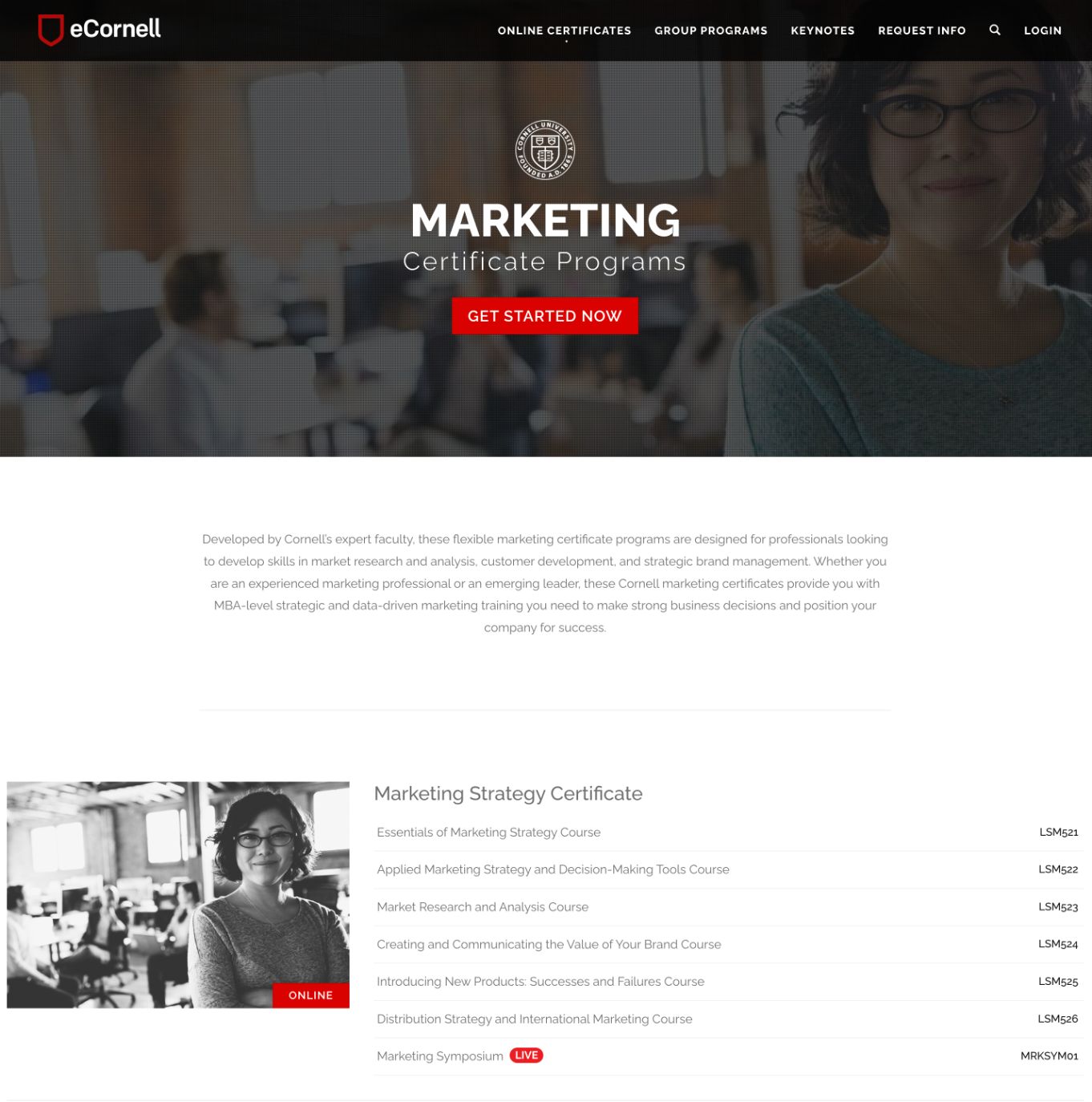 Cornell University offers nearly 20 online MBA-level strategic and data-driven marketing certifications they describe as what "you need to make strong business decisions and position your company for success:" 
They include:
Marketing strategy
Marketing AI
Marketing analytics
Social media marketing
Growth marketing
Product marketing
Digital marketing
Most eCornell courses cost about $2,000-$6,000 lump sum, or $600-900 per month. 
Similarly, the Kellogg School of Management at Northwestern University has a two-month certification program on Digital Marketing Strategies: Data, Automation, AI & Analytics for $2,210.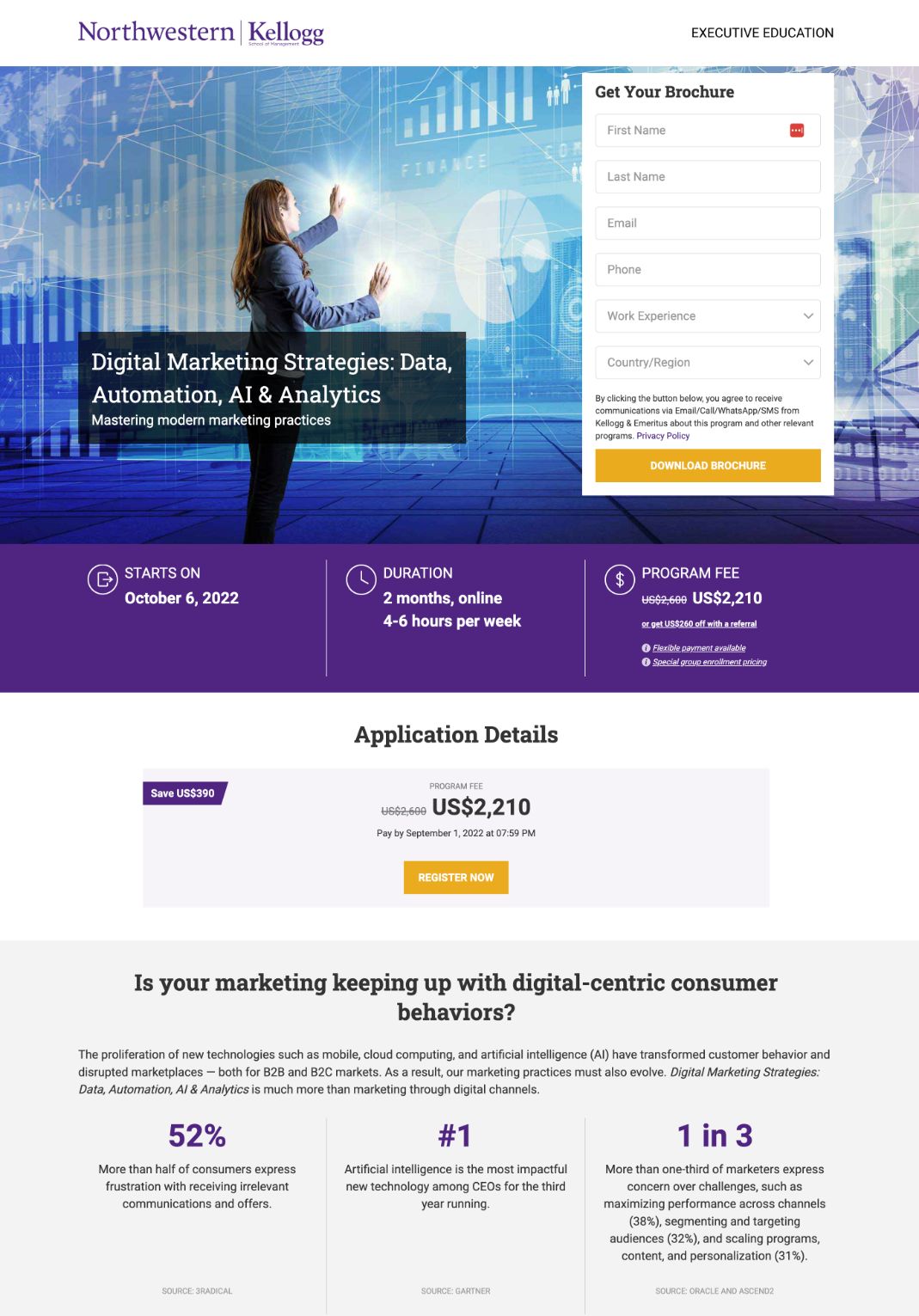 These are great options for individuals who want the accreditation of a university but without the long-term commitment or price tag. 
Online courses and certifications
Stepping away from formal education, there are also dozens of online courses and certifications available from renowned marketing organizations. 
These are best suited for people looking for financial and scheduling flexibility. With an online course, you usually can move at your own pace and learn a great deal of actionable information in a short amount of time, without the price tag or formality of the college options. 
They are also a smart option for individuals who already have a degree or foundational knowledge and want to learn more in a specific area. 
All that said, like anything, online courses vary in subject matter, depth, and cost depending on which you're looking at. Let's take a look at a few of the most popular in our community. 
CXL Institute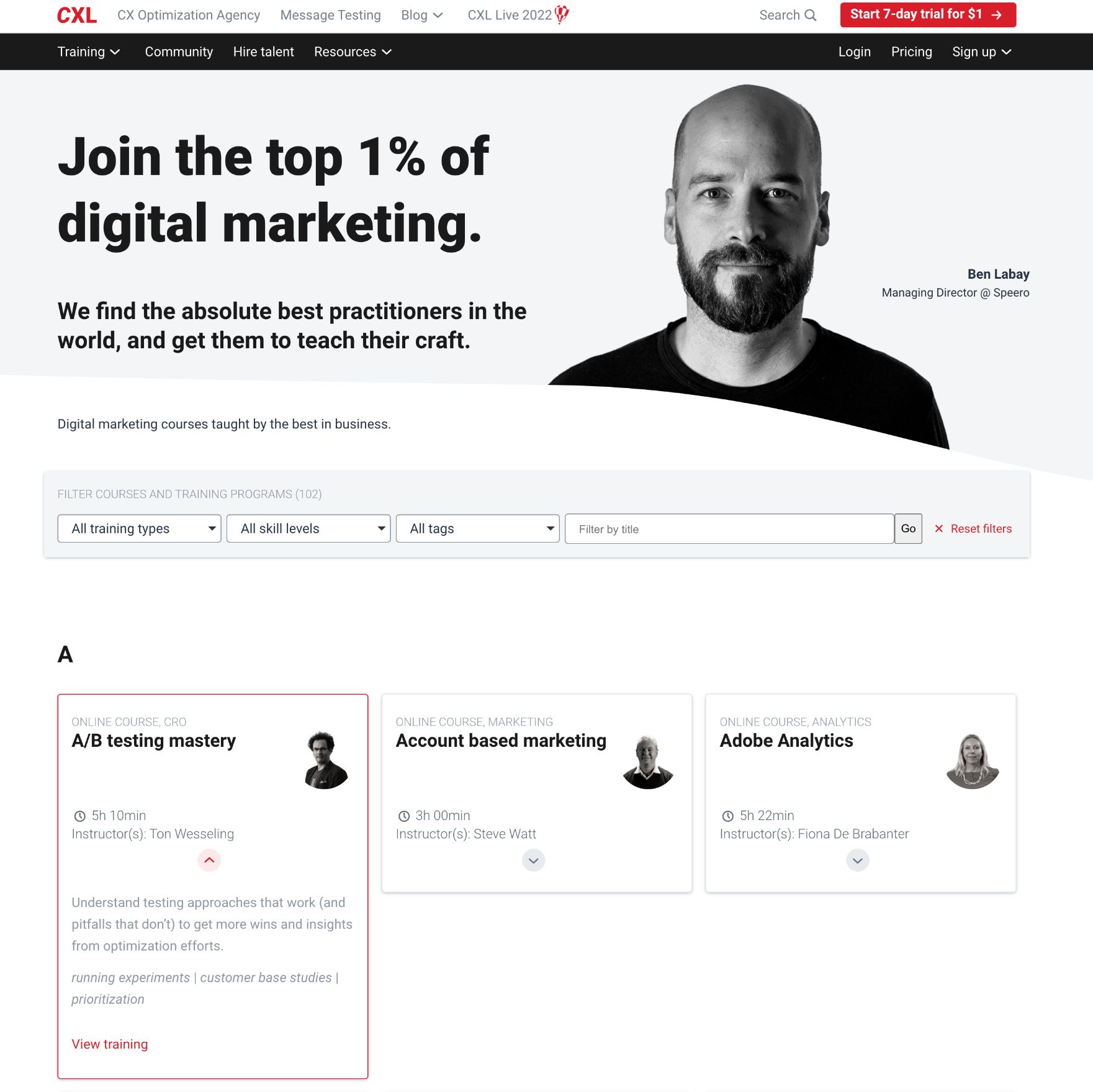 CXL Institute, run by ConversionXL, is a subscription-based online training resource offering over 90 digital marketing courses and 11 "mini degree" programs taught by some of the most well-known and respected practitioners in the field, such as Andy Crestodina, Val Geisler, Peep Laja, and IMPACT's own Bob Ruffolo. 
With CXL Institute, you can learn about topics like:
A/B testing
Analytics
Content marketing
Branding
Building a marketing agency
Email marketing
Facebook marketing
Google ads
Landing page optimization
Search engine optimization
Memberships begin at $289/month ($1499 annually) for a personal account or ​$259/user/month ($1349 annually per user) for teams. 
MarketingProfs
Next up, we have MarketingProfs. 
MarketingProfs is a B2B marketing education company devoted to helping individuals, small teams, and large organizations execute marketing campaigns that drive business results. 
They offer online events, conferences, consulting, and you guessed it, online training programs and free supplementary resources. 
The training programs include 25 courses on essential B2B marketing subjects, such as pricing, value propositions, SEO, starting a content marketing program, and demand generation.  
MarketingProfs is free to sign up for, but to get the courses, masterclasses, and a host of other features, you'll need a PRO membership for $595/year for individuals or a PRO team subscription for $1,485 for teams of three.
Additional team members are $495 each after that. 
IMPACT+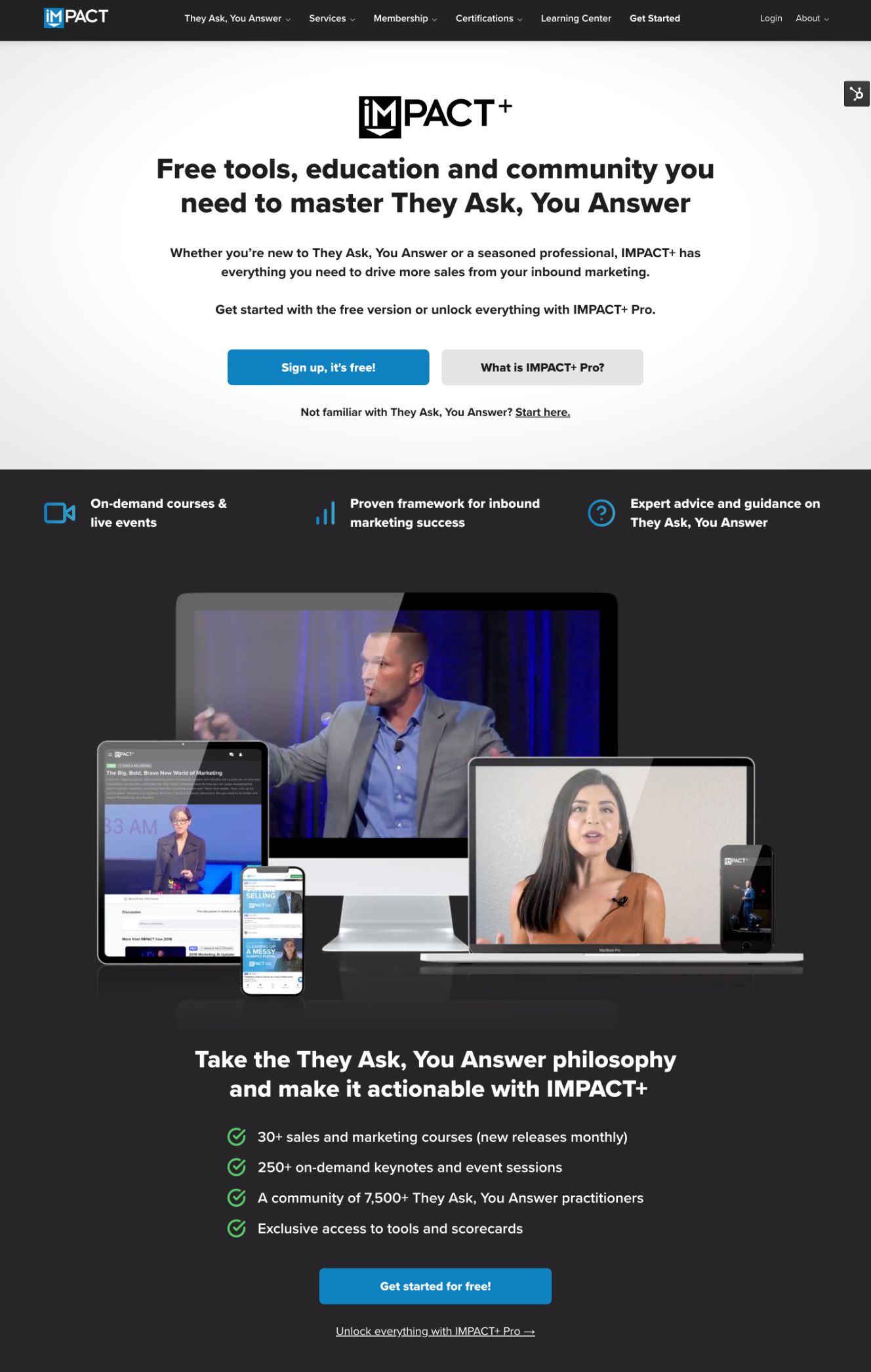 You may have noticed a lot of the subjects covered by our online courses look quite similar, and that makes sense. The foundational practices of inbound marketing and sales aren't going to change from company to company, but their approach to them will.
IMPACT's online learning community, IMPACT+, is unique in that it is the only training platform solely dedicated to helping users master marketing using the They Ask, You Answer framework.
It takes practices like content marketing and video marketing and teaches you how to achieve real bottom-line results using principles and concepts from Marcus Sheridan's framework, such as The Big 5, The Selling 7, assignment selling, and revenue teams.
IMPACT+ is free to get started with, but you'll need a Pro ($79/mo or $699/year) or Team (starting at $8,000/year for an unlimited number of users) to unlock all of the current and future courses, event recordings, member mastermind groups, tools, and scorecards. 
HubSpot Academy

Last, but not least, we have HubSpot Academy. HubSpot Academy stands out on our list as it is the only training option that is 100% free and grants users unlimited access to its vast course library, forever. 
They also offer 25 certification courses that earn users a snazzy certification they can display on their LinkedIn profiles and otherwise use to declare themselves as "certified" in a topic.
Certification courses are taught by a variety of experts from the HubSpot team and high-level categories include marketing, sales, service, web design and development, and data privacy. 
The catch? Most of the certifications are tailored to the HubSpot software, tools, and methodologies. While you will undoubtedly learn a lot, there will be a learning curve when it comes to trying to adapt your knowledge to other platforms.  
Looking for more online options? We dive into a few more in this article. 
Marketing training for all
Marketing training is a valuable investment in your overall marketing and career success and thankfully there are options to meet any and all budgets. If you're still uneasy, start with one of the free options to test the waters. 
HubSpot Academy will give you a great understanding of the basics, while IMPACT+ will help you build upon them with the They Ask, You Answer framework. 
Not sure which option might be right for you? Interested in more personalized coaching? Talk to an advisor.